7 Steps Of The Procurement Process
Published 19 Mar 2023
What is a procurement process?
In general, the procurement process refers to all the activities involved in acquiring services and materials.
Procurement is used by many different businesses operating in different industries, and each has its own unique goals when it comes to procurement.
In some cases, the procurement process can be pretty straightforward if you need one specific item from a specific supplier, and you only need it once.
In other cases, it can be quite a complex process that involves procuring hundreds of different services or items across weeks, months or years.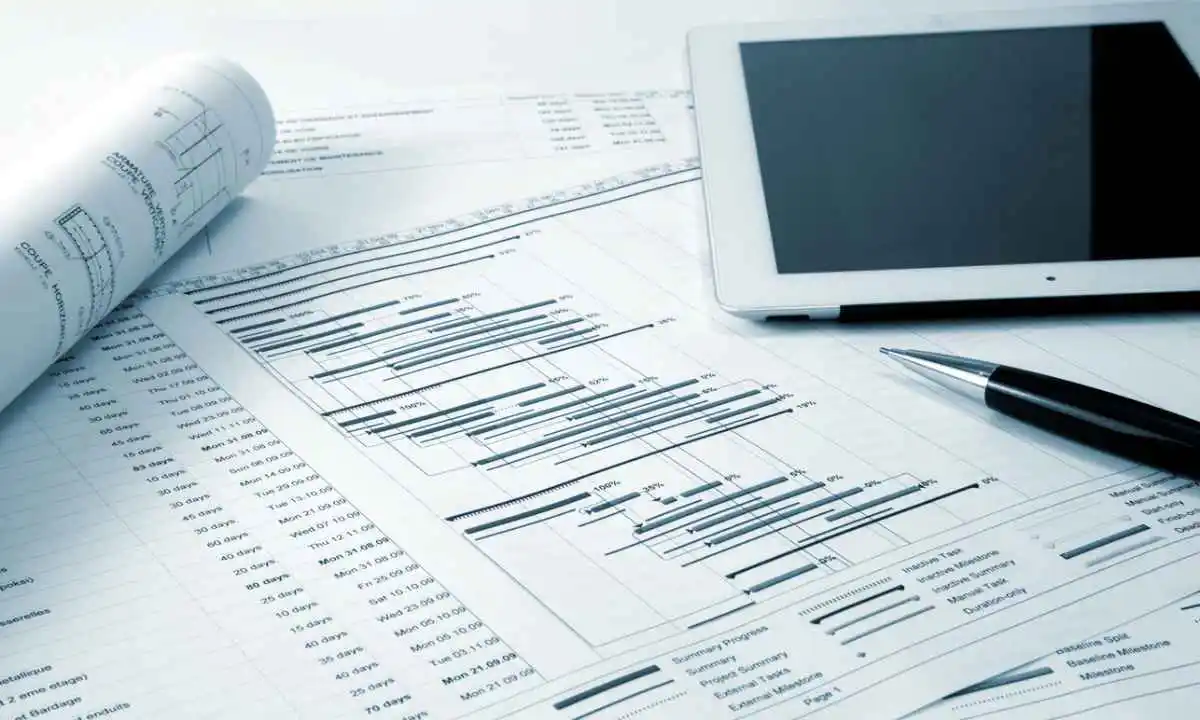 The construction procurement process
For a construction Head Contractor, procurement involves acquiring subcontractors and materials required to complete a construction project.
Procurement involves many moving parts, and when you put it in the context of large-scale construction projects - such as residential apartment buildings, schools or hospitals - the process often spans multiple years and involves the procurement of 30-100 subcontractors, thousands of separate materials and items.
The procurement process is usually handled by a number of Contract Administrators and Project Managers (or 'Quantity Surveyors' if you're living in the UK).
The typical way of managing procurement is via Excel spreadsheets, Word documents, emails and quite often physical documents - hard copy paper.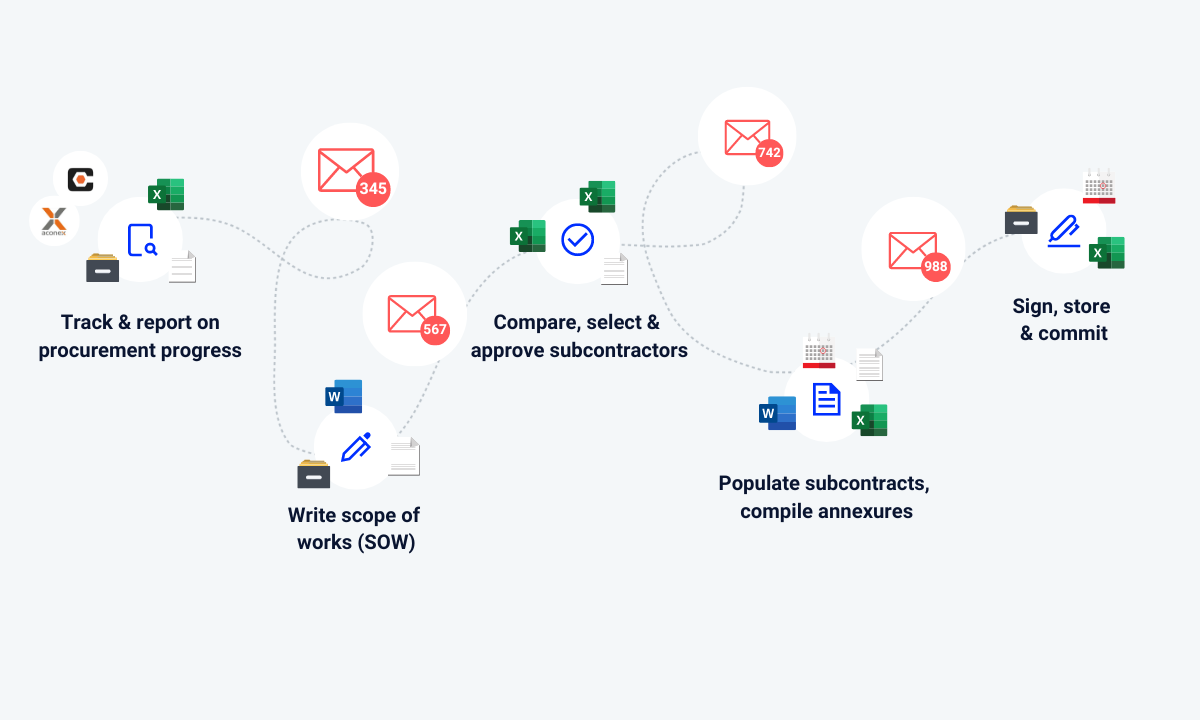 Procurement processes are complicated, and often involve many different systems, and hundreds of emails, to complete.
In recent years, specialist construction procurement software has been developed to replace manual procurement processes and make it simplified and streamlined.
What's involved in the procurement process?
1. Create a procurement schedule
At the estimating stage, the Head Contractor employs an estimator to figure out how the job, how it will be built ("construction methodology"), what subcontractors and materials are required and how much it will cost.
This estimate contains a list of trades, measurements, and budget breakdown which is then turned into an excel procurement schedule.
2. Generate a scope of works
Before the Head Contractor can go out to market with invitations to tender, a scope of works will need to be drafted for each individual trade.
The scope of works is the document that contains all information the subcontractor will need to provide an accurate quote for works they are required to complete.
As you can imagine, this means the Scope of Works will need to be detailed and accurate, which can make them extremely time-consuming to create.
3. Go to market with invitations to tender
This is where subcontractors are invited to submit a tender. Depending on the size of the job, subcontractors will generally indicate their intent to submit a response, and then possibly take a number of days or weeks to complete their application.
Being able to track the status of each tender can get tricky, depending on the volume of subcontractors being spoken to.
4. Subcontractor selection - apples-for-apples comparisons
Once you've received tender submissions back from multiple subcontractors, the head contractor will conduct an apples-for-apples comparison.
This involves comparing each subcontractor quote against each other, inclusions and exclusions against your predetermined trade budget and other project requirements.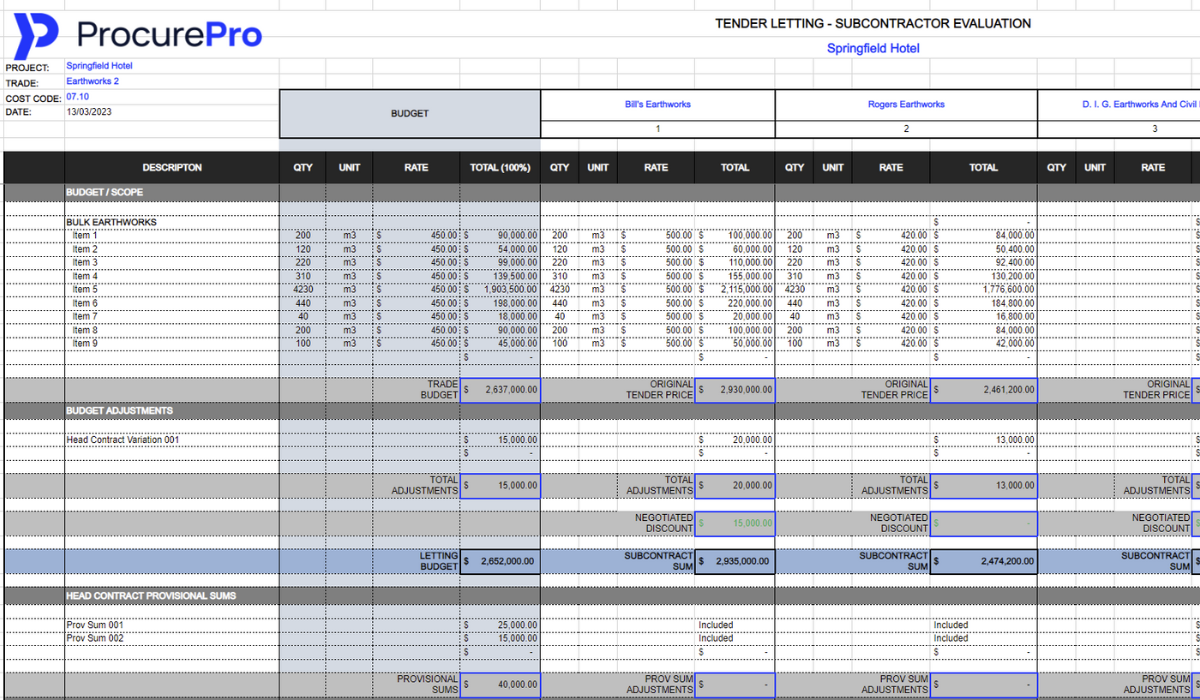 Typically, subcontractor comparisons are done in Excel spreadsheets.
The end goal of this process is to select the most suitable contractor for the project, based on price, quality and value for money.
5. Subcontractor recommendation
Once selected, the project team will recommend the subcontractor for approval by senior management.
This means compiling a recommendation form (often called an "authority to let" or "authority to award") with various attachments - the detailed comparison, the signed scope of works, tender interview, insurance, further relevant supporting documentation and compliance checks.
<insert image of excel ATL>
This recommendation is signed off by 1-10 approvers depending on the size of the subcontract, whether a gain or loss is made against budget or other criteria.
This process is collaborative by nature and can be very difficult to track where approvals are up to when multiple people are involved.
6. Contract creation and signing
Once a subcontractor has been approved, a subcontract is drafted, reviewed, approved and sent out for signing.
A subcontract can often be over 100 pages long and includes the scope of work, project details, document register, program, and departure schedule and further information.
Subcontract signing can be printing and binding two versions, hundreds of pages long, obtaining signatures (sometimes weeks or months later), and hopefully scanning back in a complete signed copy. Do signed contracts go missing? Absolutely.
If this sounds like a manual process, it's because it is. Does it always get done before the start date on site? Absolutely not.
The risk is that you can have a worker physically turn up on a dangerous construction site to complete work, without having signed a subcontract.
If an injury occurs, this creates insurance and legal risk (for example the recent industrial manslaughter legislation in Australia).
7. Start date on site + project management
Once the procurement process has been finalised, the subcontractor's start date on site will need to be managed, as well as the supply of materials, resources and other time frames.
If the subcontractor starting on-site is reliant on another trade being finished, this will need to be communicated.
If the subcontractor is experiencing delays in completing their work, this will need to be managed to prevent it from holding up the entire project.
What are some common issues that impact the procurement process?
You can face a number of issues throughout the procurement process:
Time-consuming and difficult to manage
Low/no visibility on the status of procurement
Large amount of manual input is required at nearly every stage of the procurement process
Lack of real-time reporting and updates leaves room for risks to emerge, missed deadlines and missed opportunities for cost efficiencies
There are a lot of potential risks involved with construction procurement. , which can negatively impact delivery of the construction project.
How could the procurement process be improved?
Specialist construction procurement software is the best way to improve the procurement process.
Software helps Head Contractors gain visibility of their entire procurement process at a glance, without relying on manual reports, and helps them streamline and make better use of their employee's time.
Instead of the process being spread out across dozens of sheets, documents, emails and other forms, software can provide a single centralised view for the entirety of a business's procurement needs.
If you're a construction management professional still doing procurement the "old way", check out how software like ProcurePro saves you time and money, and lets you focus on the high-value work that matters.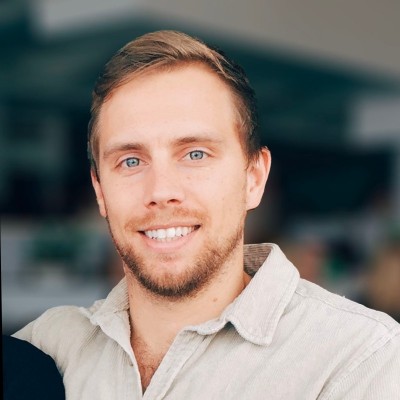 Tim Rogers
Tim Rogers is Co-Founder & Product Lead at ProcurePro. After nearly a decade working as a Contract Administrator and Project Manager in commercial construction, Tim now works with construction management professionals and builders globally to solve construction's mission-critical challenge of procurement.